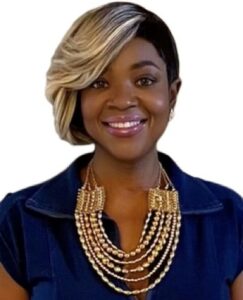 Realtor® | Loan Officer | Notary Public
Kenyana is a Florida native, with over 20 years of combined corporate experience in banking, mortgages, underwriting, Real Estate, a License Insurance Agent, and a Notary Public. In her spare time, she is heavily involved with her community being a member of the Beautiful Feet Dance Ministry, A Volunteer for Hubbard House, Local church organizations, and an active member of Big Brothers Big Sisters of Northeast Florida (BBBSNEFL).  Her passions are helping others and pouring into their lives.
Real Estate gives her great satisfaction, as she strives to exceed her client's expectations. Her mission is to ensure that her clients find a place to call home while building trustworthy relationships. Whatever your housing needs are, she's here to assist and guide you through that process. She uses her experience, knowledge, and expertise to ensure you have the best experience.
Not only is Kenyana a licensed Realtor®, she's also a licensed Loan Officer which makes her even more equipped to assist her customers with achieving their real estate goals. Rather it's to purchase or refinance, Kenyana is the person who will utilize all of her expertise to ensure that you have a smooth process.
Contact Kenyana for all of your Real Estate needs:
P: (904) 535-4707